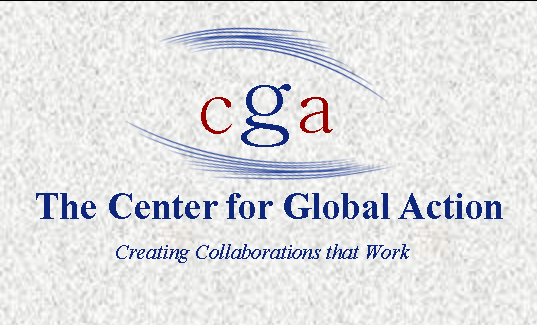 Center for Global Action
The Center for Global Action (CGA) brings together philanthropists, nonprofit leaders, social entrepreneurs, private sector leaders and policymakers who share a commitment to positive social change. The goal is to overcome barriers to effective action and to identify and seize opportunities for collaboration. The Center focuses on leveraging private and public sector capabilities in advancing social innovation, improving nonprofit advocacy, and supporting the role of community-based organizations active in social and humanitarian assistance.
The Center uses a variety of tools such as grant making, convening, mission investing, advocacy, research and technical assistance. The Center's work is organized into three primary categories:
Initiatives and Projects: The Center works to achieve long-term impact through initiatives and projects such as incubating a short-term project by being a fiscal sponsor and convening initial meetings, or there may be a long-term initiative that requires multi-year funding and staff support.
Small Grants Program: Providing technical assistance and grants to grassroots organizations in an effort to increase engagement, power and influence and achieve desired results.
Collaborative Research and Learning: The Center works with funders, policymakers, communities and other stakeholders to collectively learn and share that learning with others. The Center will commission research to support the work of specific initiatives and projects.
Currently, the Center focuses on 7 collaborative and partner Signature Initiatives. For more information on each Initiative, please click on the links below.
Freedom Farms of America
Institute for Education & Job Training
Emergency Homes of America
ACTS Global Run for Orphans
Hydroponic Growing
Cause Marketeers
Global Housing Initiative